#FashionTech 2017
Review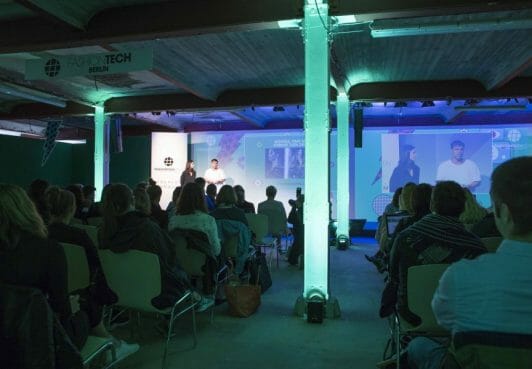 The times we live in are exciting. Everything is in motion and we can see the change in new products that arrive on the markets.
It makes us happy to see that there is a change. People – business people as well as consumers – do take care of our environment. They try to not produce so much waste, or if they do, they try to use recycled materials. One exhibitor we scouted at the FashionTech was Mariella Labels – a business founded in Finland. They created a method for electronic price tags. The tags are re-usable and can be coded with a certain a price on it. The number can be recoded as soon as you apply it to another product.  Imagine if every business in the world would use this – do you have an idea how much paper could be saved? And again, how this would affect our water and our forests? The chain is long and its change can start at a single point. We like the idea of non-plastic or non-paper price tags a lot.
Warming textile technology
We also spotted another great idea called nanogy by Acanthurus. This is an innovative warming technology, developed by Chinese market leader j-NOVA for the European market. It's maybe the the change that is going to reach our markets the quickest of all. It's a technology for clothes to warm up by pressing a button. The designers from the brand "nanogy" developed a technology with nano wires which can heat up if you're cold. "This will make freezing a thing of the past," explains Carsten Wortmann, founder and CEO of Acanthurus, in an interview. The best about it? You can wash it and even iron it….
What we also liked a lot was to see the general interest into all of those topics. There is still so much work to put into the field of FashionTech to actually make it become part of our daily lives, but it is about to begin! The panels were very well visited, and a lot of people from different businesses sat down to listen to people who are into FashionTech, to understand the role of it.
The picture below shows the panel with Vice President of Brand Experience at Deutsche Telekom, Antje Hundhausen, discussing FashionTech with Paul Lukowicz, professor for "embedded intelligence", and Senior Director of Digital Innovations at Lufthansa, Torsten Wingenter, to present the FLYINGLAB.
FASHION FUSION is again a proud partner and supporter of this change and we hereby motivate all of you fashion designers who are into FashionTech to apply for the FASHION FUSION contest.