Get Together Event
at Fab Lab Berlin
Review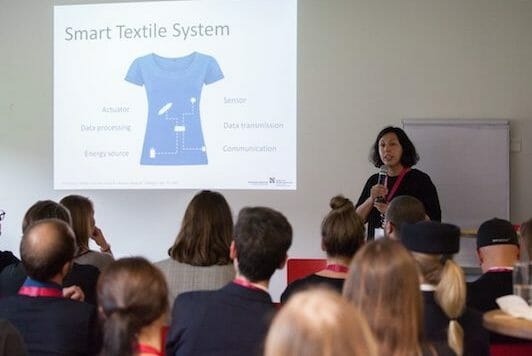 The second part of our Fab Lab get together event was filled with industry insights from our guest speakers from Hochschule Niederrhein, Alpha Tauri/Red Bull and Hugo Boss.
As part of our Telekom Fashion Fusion & Lufthansa FlyingLab Challenge get together event at the workspaces of Fab Lab Berlin, three guest speakers were invited to talk about fashion tech from their respective point of view and industry field.
First off, Prof. Anne Schwarz-Pfeiffer from Hochschule Niederrhein presented "Trends in Smart Textiles", going back to the very beginning of tech enhanced fabrics and garments. To Prof. Schwarz-Pfeiffer, textiles are such an attractive surface because they surround us constantly and are the main contact area to the body. The first smart textiles appeared in the 90s, consisting of a backpack with a holder for electronics. Something that seems so trivial was actually the starting point for what is happening in fashion tech today.
The professor at Niederrhein University of Applied Science likes to set up a sort of time line in order to give a better understanding of the development: textile adapted (the past), textile integrated (the present) and textile based (the future). She claims we are in a transition phase between textile integrated and textile based, where the mismatch between aesthetics and functionality is still the main issue. However, the future seems promising: a study by Martel predicts a growth rate of 30 % over the next five years. This can be seen also in the variety of online shops that are focusing on smart fabrics. And apparently, an offline store is said to be opening in Berlin soon!
Ben Buescher of Alpha Tauri/Red Bull then took the stage to present the brand's take on smart fashion. Did you know that Red Bull has been involved in the textile business for 20 years? We didn't, either! After realizing that there was a vast majority of Red Bull fans who were obsessed with their merchandise, the company decided to launch Alpha Tauri in 2016. Ben Buescher states that the idea behind the clothing label is to present itself as a traditional fashion brand while integrating added values that are adaptable to daily life, not high performance.
Thus, Alpha Tauri started to implement several technologies, such as the existing taurex technology, a self-called "well-being technology", providing a recovery effect for your body. However, Ben Buescher remains skeptical about the reoccurring question, whether smart textiles are ready for the "real world" yet. "There is still a lot to be done", he says and reveals that Alpha Tauri's main field of interest  lies in generating energy by natural movement and integrating that in fashion. Additionally, the Austrian brand is planning on introducing "virtual dressing rooms" that enhance the e-shopping experience.
The third guest speaker of the day was Dominik Salzer, introducing the audience to the sustainable innovations at internationally renowned label Hugo Boss. "Developing ideas for tomorrow" is what Hugo Boss is striving for, bringing together sustainability and technology in their fashion label. Dominik Salzer pointed out their product innovation operating model. At the core,  this means optimization of existing products for existing customers. In adjacent markets, Hugo Boss wants to expand the existing business into "new to the company" business. Lastly, on a transformational level, the goal is to develop breakthroughs and inventing things for markets that do not yet exist.
The audience was also introduced to Hugo Boss' product innovation lab, which is a collaboration and education space, aiming at enhancing exchange and fostering sustainable product innovation. This can be found for example in the creation of the "pinatex" shoe, made from pineapple leave fibre.
All three keynote presentations provided the teams, the jury and selected guests with valuable information and insights, showing how far fashion tech has come since the backpack from the 90s. The speeches also underlined how much is already being done and changed at renowned fashion labels with regards to technologically enhanced garments and optimized services, proving once again, that fashion tech is here to stay.