Fashion Fusion
Goes Vienna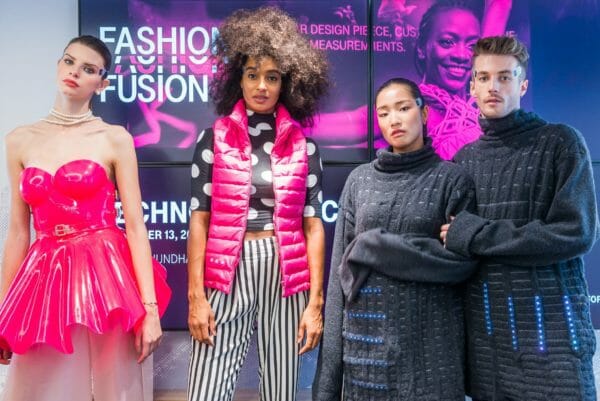 On 13th of September 2018, Telekom Fashion Fusion held an exclusive event during the MQ Vienna Fashion Week at the T-Mobile Huawei Experience Store in the heart of Vienna.
Under the motto: "Immerse yourself in a world where fashion embraces technology", guests took a deep dive into Telekom Fashion Fusion and its importance in the fashion tech scene. Renowned international speakers of our ecosystem from the fashion and tech industry shared business opportunities and insights.
The panel, which focused on Smart Textiles and Artificial Intelligence in fashion, was attended by
▪ Prof. Dr. Paul Lukowicz, Professor for Embedded Intelligence at the German Research Institute for Artificial Intelligence
▪ Julia Freitag, Fashion Consultant & CEO styleproofed
▪ Judith Gampe, CEO Nova-Products
▪ and Antje Hundhausen, VP Brand Experience and Founder Fashion Fusion
and was moderated by Danjin Saletovic, VP T-Mobile own shops Austria.
Fashion Fusion Goes Vienna
Fashion Fusion Goes Vienna
Fashion Fusion Goes Vienna
Fashion Fusion Goes Vienna
Fashion Fusion Goes Vienna
The winning teams of this year's Fashion Fusion Challenge Keypod (1st place) and Interknitting (2nd place), as well as the "Blue Pearls" Smart Earings by Nova-Products could be experienced interactively and the Haute Couture Piece by the currently most hyped Austrian designer Marina Hoermanseder could be admired. Additionally, Huawei announced the new chipset with AI capability.
We are especially pleased that the fashiontech and art scene, as well as renowned partners and other interested guests were part of this special occasion and exchanged how smart textiles & fashion embraces technology & artificial intelligence.