#FASHIONTECH BERLIN
JULY 2018
REVIEW OF THE 8TH SUCCESSFUL CONFERENCE ON THE FUTURE OF FASHION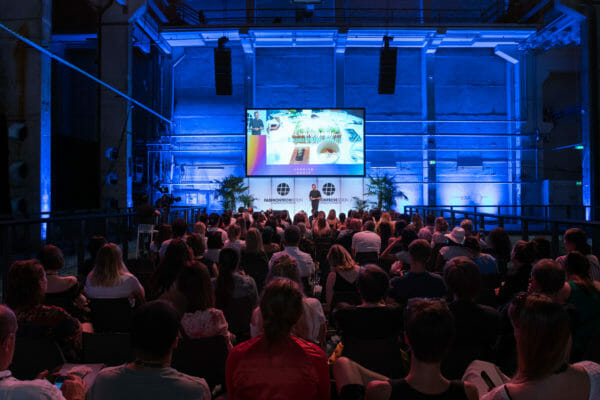 On 4 July 2018 FASHIONTECH BERLIN took place at Kraftwerk Berlin, presenting top-notch speakers, industry insiders and global players who shared their knowledge and expertise with the many visitors in the audience who had come from all over the world to be part of the #FASHIONTECH Berlin community.
In the Exhibition Area numerous companies from both the fashion and technology industries, such as Telekom Fashion Fusion, Sizolutin, Lunative Laboratories, QR tex, Retviews, Shopest and Textilwirtschaft, presented their latest developments, wearables, innovations and business solutions. In addition to that participants were able to gain valuable practical know-how in interactive masterclasses held by successful industry players.
"With #FASHIONTECH BERLIN, Anita and her team are on the pulse of time and have found exactly the right platform to set a milestone." Antje Hundhausen, VP Brand Experience, Telekom
Since the launch in 2015, twice a year visionaries have met at the conference to discuss the latest developments at the interface of fashion and technology, following all news and developments about digital transformation.
However, digitalisation disruption not only affects the fashion industry but the whole lifestyle industry – with immense impact on all elements of the value chain: production, buying, paying, distribution and presentation in retail. It is exactly this fact that makes it all the more important to think and act in an interdisciplinary manner in order to stay competitive in today's market environment.
The #FASHIONTECH BERLIN conference is the place where players from the relevant areas meet, not only to learn about the latest developments and exchange valuable knowledge, but also to jointly develop future-oriented digital solutions, generate new business leads and foster networks.
The conference was opened by Anita Tillmann, founder and CEO of the Premium Group and organiser of #FASHIONTECH BERLIN; Michael Stracke, Chief Business Development Officer and moderator; and initiator Ole Tillmann, who also led through the day. The auditorium at Kraftwerk was filled to capacity throughout the day.
Top-notch speakers such as Karl Wehner (Alibaba Group), Tarek Müller (About You), Michael Kliger (Mytheresa.com), Whitney Bromberg Hawkings (Flowerbx) with Inga Griese (Icon & Iconist), as well as Leyla Piedayesh (Lala Berlin) with Anita Tillmann (Premium Group), and Florian Heinemann (Project A Ventures), Martin Wild (MediaMarktSaturn Retail Group) and Lukas Gant (Alphatauri by Red Bull) held keynote presentations before the audience.